Hey peeps
As you all know, SSC presents to you German vs Jap #edition08, the epic event held at Nasrec on the 7th July 2019. We've combined all the facts, with everything you need to know, be sure to read on to know where to go!
The German vs Jap event boasts a number of components and welcomes one and all, spectators and competitors alike. We'll go into detail further on, for now here is what you can look forward to;
 German vs Jap Car Show (stance, park-off, limbo, non-competitor park-off)
 Classic Car Show
 Sound Competition
 Kids Play Area
 Prawn Food Fest
 Foodie – Halaal Inspired
 Drift Rides
 Helicopter Rides
 Flea Market
 Beer Garden
 Exhibitor Stands
Gate entry and Competitor entry rates into the event per person is set as follows;
PRE-SOLD
GATE ENTRY:
R60 Spectators (R20 Kids)
PRE-SOLD COMPETITOR ENTRY:
R150 LOW-LIMBO
R150 STANCE
R150 PARK-OFF
R50 PARK-OFF (NON-COMPETITOR)
AT THE GATE
GATE ENTRY:
R80 Spectators (R20 Kids)
COMPETITOR ENTRY AT THE GATE:
R250 LOW-LIMBO
R250 STANCE
R250 PARK-OFF
R150 PARK-OFF (NON-COMPETITOR)
Every person entering through the gate will pay a gate entrance fee. If you are entering your car into a competition, you will pay a gate fee and a competitor entry fee. Please note that these are two separate amounts.
We have a limited amount of allocated entries for the event. The balance of tickets not sold prior to the event will be sold on the day, however, pre-sold tickets are recommended to avoid disappointment  (You can thank us later!)
Please refer to route layout and event map.
We will be making reference to different coloured arrows for different elements, please familiarise yourself with these and follow the arrows on the map for your desired location.
FYI:
All 'Spectators' parking outside the showground and entering the venue on foot are to please follow the Green arrows. Spectators must utilise turnstiles 3 & 5 ONLY. Please refer to route layout and event map.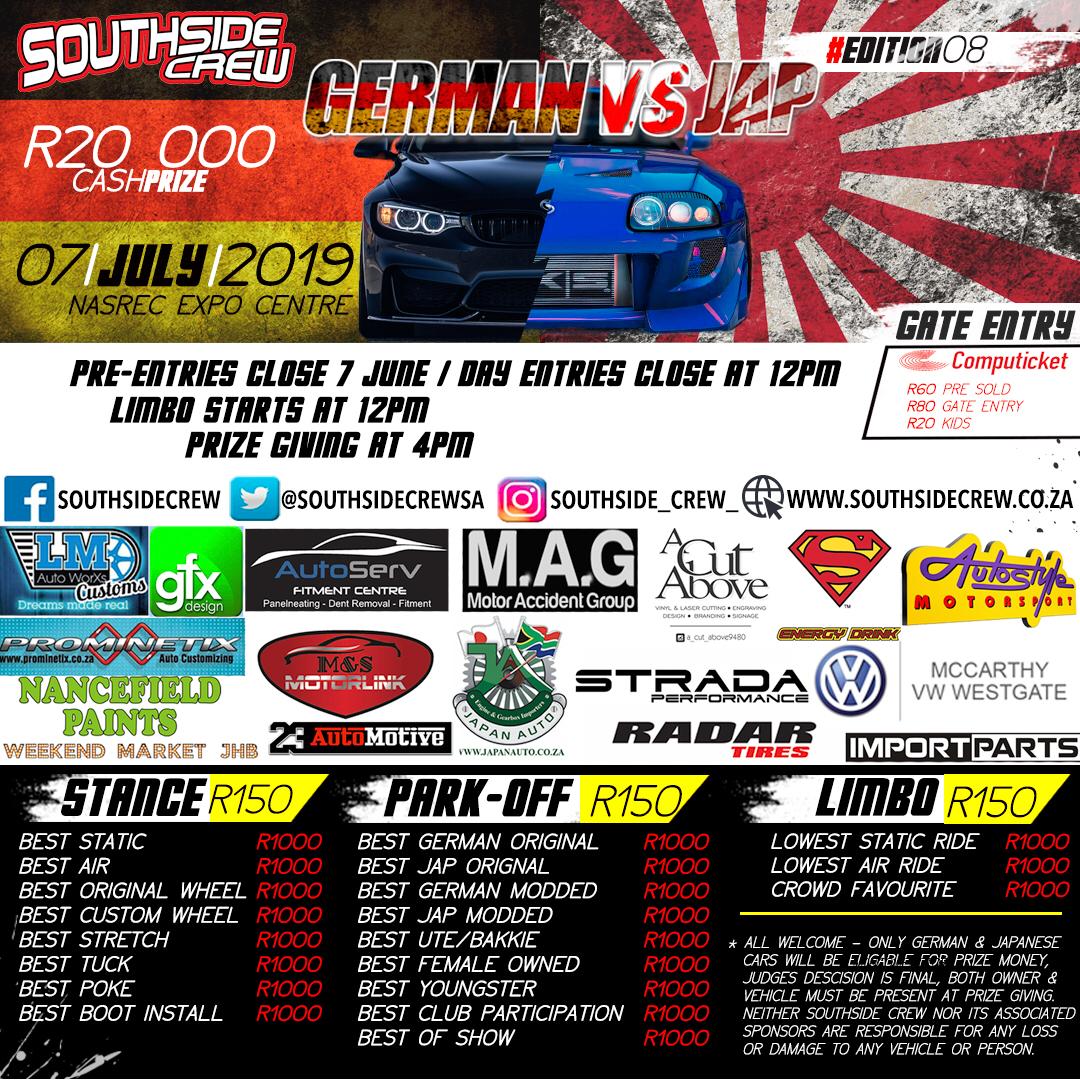 GERMAN vs JAP Car Show
This component includes the low-limbo, stance, park-off, and non-competitor park-off elements. Email letmein@southsidecrew.co.za with
 A picture of your car
 Your full name
 Phone number
 Car make and model
 Car registration number (Number plate)
Entry rates as indicated above. Hurry! Pre-entries close on 7th June 2019.
All pre-selected entries will be categorized and parked accordingly prior to or on the event day. Cars selected by pre-entry ONLY to be parked in Hall 5 on Saturday. No cars will be allowed to park in Hall 5 on Sunday. Please note that the removal of cars will only be allowed to take place after 5pm on the event day (Sunday).
All other pre-selected cars for entry into the event ie. German vs Jap entries, please follow the Yellow directional arrows on the map for the route into the venue.
Documentation will take place at the transport hub, thereafter GATE 1 must be utilised to gain access into the event. Please refer to the map. This includes any possible on the day entries (provided all entries are not filled pre-sold).
The Limbo will take place at the lakeside area. Competition commences at 12 midday and prize giving will take place at 4:30pm.
Non-competitor parking is situated at the admin area.
Please refer to route layout and event map for all the elements listed above.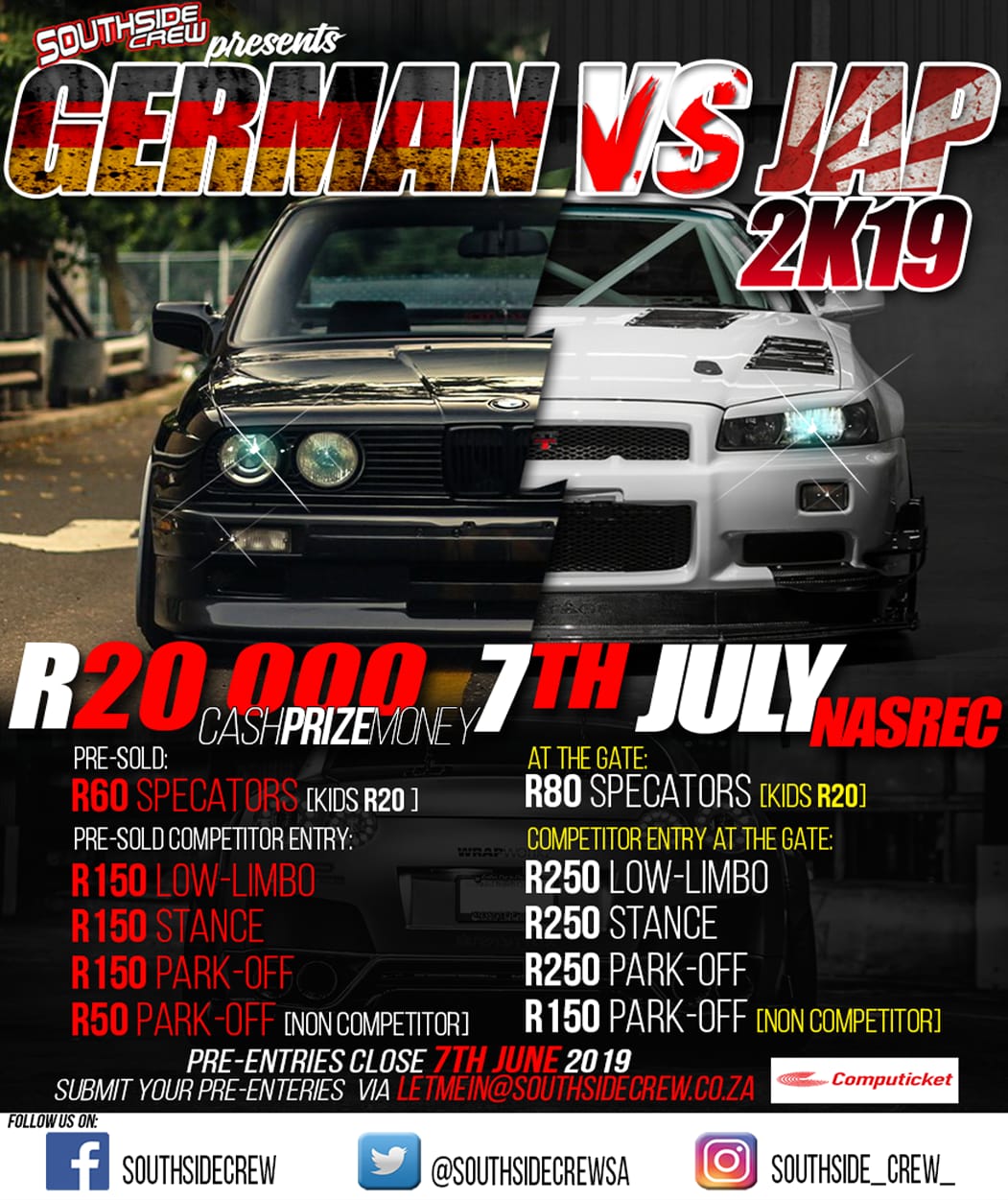 SOUND COMPETITION
The Sound-Off will be located and take place at GATE 5 only. Entries are available on the day at R200 per entry. Please follow the Purple arrows to locate your spot. Please refer to route layout and event map.
CLASSIC CAR SHOW
All Classic Cars are to enter the venue from GATE 2, and will park on Terrace 2. (No other cars except Classic Cars will be allowed to access GATE 2). Follow the Blue directional arrows for the route. Please refer to route layout and event map.
KIDS PLAY AREA
Tickets for the kids' play area may be purchased on the day at the allocated area per ride, per child (3-12 years). The main arena will host an array of fun filled entertainment for the day. Parents/guardians take note that this is NOT a child-minding facility. Adult supervision is compulsory.
FOODIE – HALAAL INSPIRED
A variety of food, food related, and unique product offerings will be situated in the main arena, including Gourmet Halaal Food. Basically everything that will make your tummy smile! The Prawn Food Fest will also be back! Please refer to the map for the location. No braais and cooler boxes will be allowed as per venue restrictions.
RIDES
Drift rides at R150
Helicopter rides at R150
Tickets for these rides can be bought on the event day at the allocated area. Please refer to route layout and event map for locations.
FLEA MARKET
An assortment of stalls will be located in and around the venue. Get ready to shop! Please refer to route layout and event map.
EXHIBITOR STANDS
A wide range of exhibitors will be located in and around Hall 5. These include;
o Strada
o GFX Design
o Nancefield
o Radar
o LM Autoworxs
o Import Parts
o Autoserv
o Prominetix
o Japan Auto
o M&S
o MAG
o A Cut Above
o Autostyle
o VW Westgate
o 23 Automotive
o Superman
For vending and marketing opportunities email raeesah@southsidecrew.co.za.
Kindly direct all other queries to info@southsidecrew.co.za prior to Friday, 5th July 2019.
Check out all our Social Media to keep updated.
FB: SOUTHSIDECREW
We look forward to seeing you there!